Short assessments with regard to campaign supporting hunger strike conducted by conrade Alfredo Cospito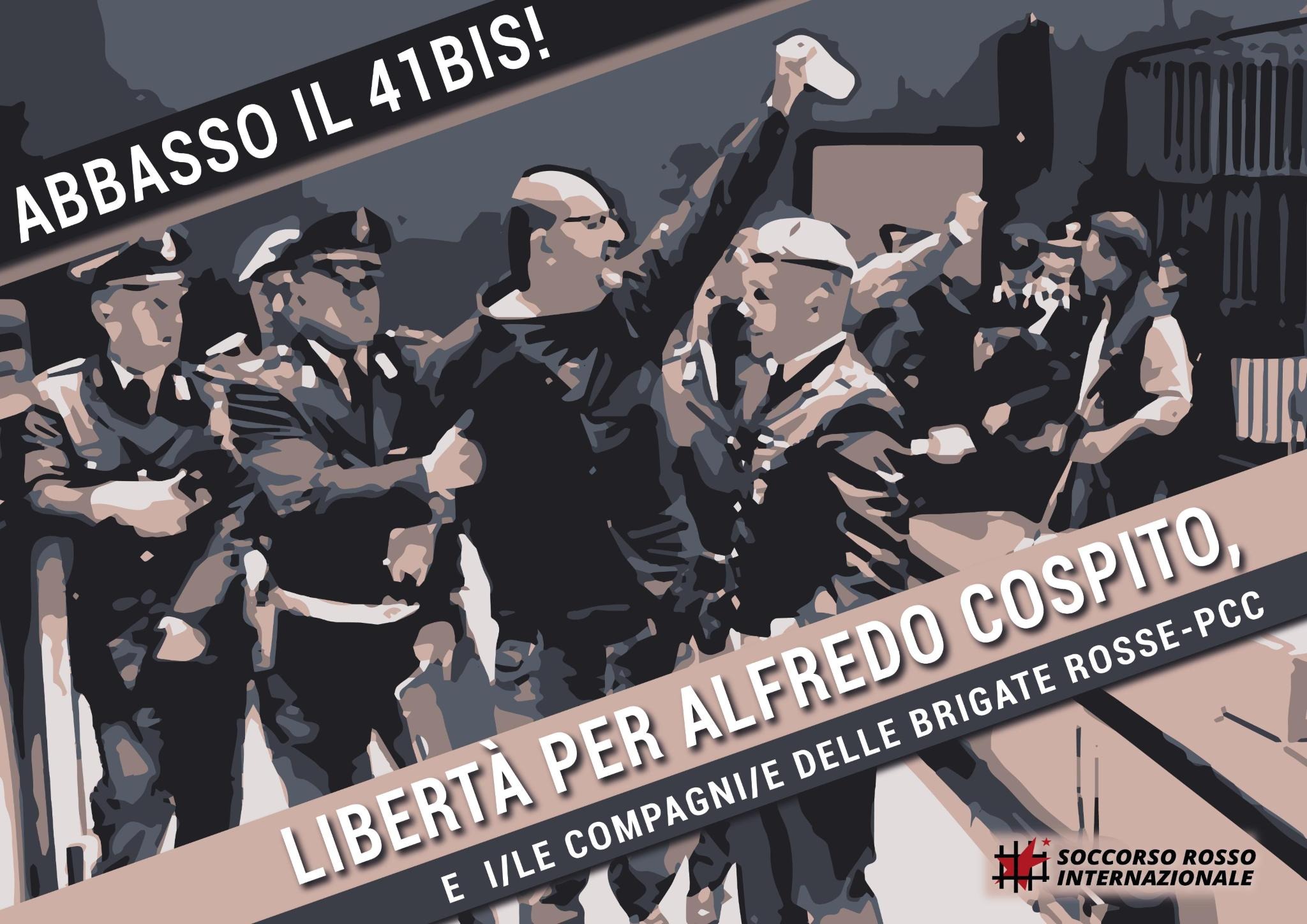 As CCRSRI we actively joined campaign supporting fight of Alfredo Cospito hungerstriking since October 2022 against 41bis regime and life without parole.
Such a campaign, promoted and organized at Milan by "Assemblea cittadina contro il 41bis e l'ergastolo ostativo" (city assembly against 41bis regime and life without parole, ndr) has embodied the contents of the detained comrade to give voice to his requests (abolishment of 41bis and life without parole for everybody) organizing various events, among which demonstrations, sit-ins, and debates, as happened in many Italian and foreign towns.
This fight, lasted more than six months, was very important having emphasized how the mesasure of 41bis regime is the top of a strategy pursued by the state, aimed at crushing the detaines and, in case of revolutionary prisoners, intended to destroy their political identity and their political path, trying also to hit their resistence and resolution to continue the revolutionary fight. Moreover, 41bis regime is a deterrent towards fights and vanguard struggling outside, to dissuade them from undertaking the revolutionary path.
A merit of Alfredo Cospito's fight has been the emphasizing issue of 41bis regime and notably the presence of some locked up revolutionary prisoners submitted to this regime, while public opinion has always been induced to associate this regime to detaines pertaining to organized crime.
During these months, following requests made by comrade's lawyers, many judgments were announced, which, however, have confirmed his remaining under 41bis regime. This has provided an impulse and a widening, also allowing inclusion of reformist components, as concerns actions which so gradually reinforced themselves.
As CCRSRI, with a view of "commun front",we actively participated bringing our contents (against 41bis, in support of revolutionary prisoners, against repression, against imperialist war) to events organized during the campaign, trying to fill what, in our opinion, is a gap surfaced during mobilisation, at least in Milan, that is the tendency to focus the intervention only on Alfredo Cospito's incident, almost completely excluding the oother 3 revolutionry prisoners of BR-PCC submitted to 41bis regime. That occurred, even if the hunger strike is objectively a form of self-defeating struggle we criticize since, and Cospito's case in our opinion proves it, lends itelf to a merely logic victimist and defensive.
On April 19, 2023, after a sentence pronounced by Corte Costituzionale opening a glimmer ta possible penalty reduction and consequently prison conditions alleviation, which could establish a legal reference for other cases too, the comrade after 181 days decided to stop the hunger strike.
With regard to targets pursued by the comrade resorting to all-out hunger strike, it matters to us to point out that 41bis regime remained unchanged for all political prisoners and not.
Furthermore we verify that hungr strike stop by the comrade imprisoned, determined an unavoidable retreat of mobilization against 41bis regime, whike it would be necessary relaunching and developing.a permanent action against 41bis and for solidarity towards revolutionary prisoners.