Call for an action day for Alfredo Cospito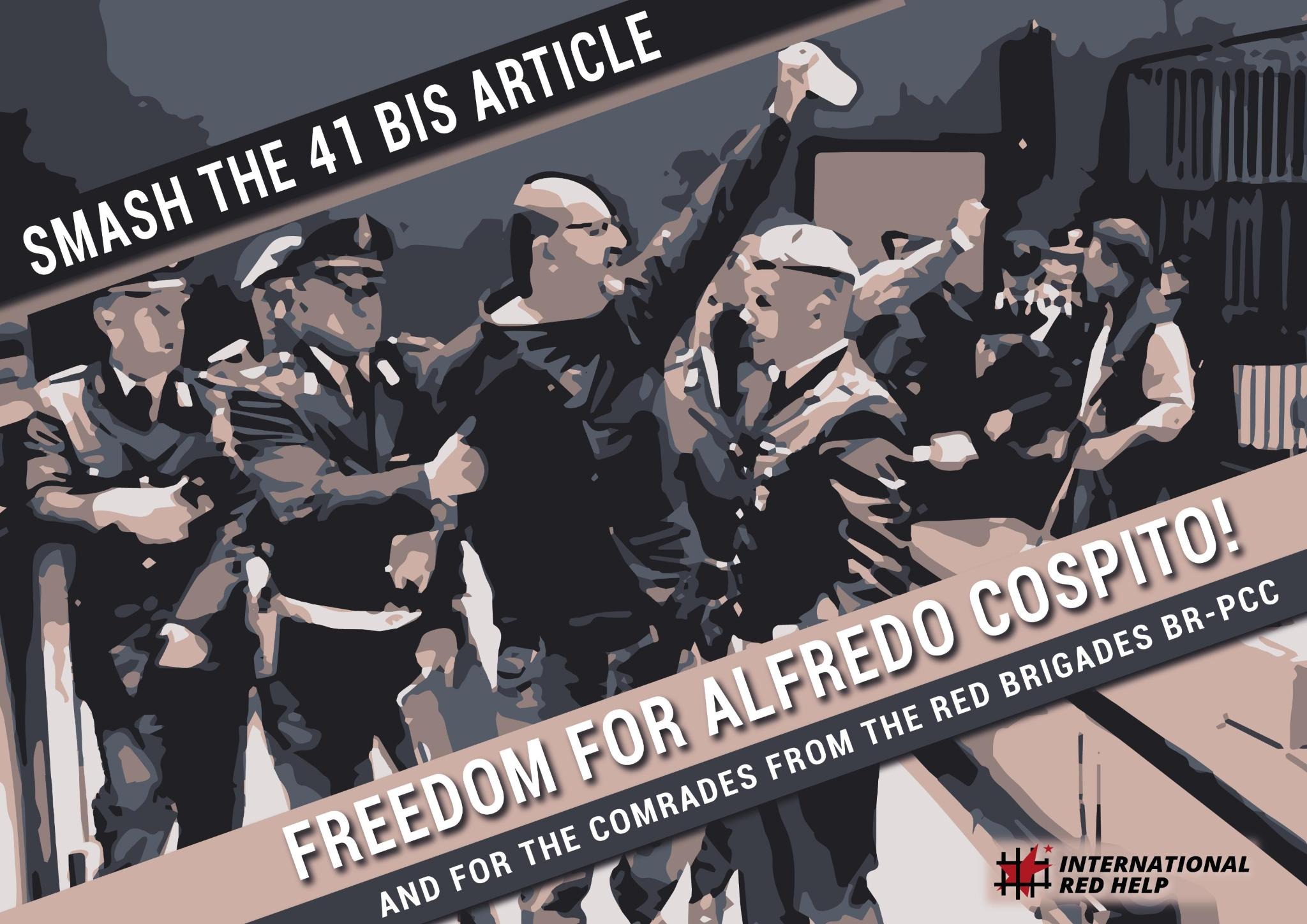 On October 20, the anarchist prisoner Alfredo Cospito began a hunger strike against the 41 bis prison regime, a struggle he intends to carry on until the end. The anarchist prisoners Ivan Alocco and Anna Beniamino have joined this strike.
The 41bis is the harshest prison regime in Europe. Created in principle to prevent members of the mafia from continuing their activities from prison, it was soon extended to revolutionary prisoners to prevent them from interacting with the outside world. Three prisoners of the Red Brigades-PCC, Nadia Lioce, Roberto Morandi and Marco Mezzasalma, have been subjected to this system for 17 years. The value of their resistance must be measured by the understanding that it would be enough for them to make an act of political surrender to get out of this regime.
Only by understanding these regimes of isolation as a means of pressure, as torture, to extort repentance, can we give its true meaning to the suicide of Red Brigades-PCC activist Diana Blefari in 2009, after four years in 41bis. Diana could no longer bear 41bis but refused to be betrayed. This choice was also a form of resistance, and it has a precedent, that of Luis Rodríguez Martínez, of the Anti-Fascist Resistance Groups of the First October (GRAPO), who committed suicide in 1983 after three years of total prison isolation.
Only by understanding these regimes of solitary confinement as a means of pressure, as torture, to extract repentance, can we understand the political character of the hunger strikes until death carried out by revolutionaries.
When one rejects the hypothesis of repentance and collaboration, when one refuses to be buried alive, the hunger strike presents itself as the only means of struggle. Holger Meins, of the Red Army Faction, sacrificed his life in 1974; Kepa Crespo Galende, of the Communist Party of Spain (reconstituted), in 1981; Sigurd Debus, in a hunger strike of the Red Army Faction, in 1981; and José Manuel Sevillano Martín, of the Anti-Fascist Resistance Groups of the First of October (GRAPO) in 1990. This is to speak only of Western Europe, because in Turkey and Kurdistan dozens of prisoners gave their lives in long strikes against the installation of isolation prisons on the Italian-German model.
The application of the 41bis to Alfredo Cospito comes after he has already been in prison for ten years, following his conviction for hammering a boss of the Ansaldo nuclear company. The transfer to 41bis is linked to a reclassification (dictated by the Court of Cassation) of two bombs that exploded at night without harming anyone in front of a Carabinieri barracks as a "strage", a "bombing-massacre".
The cynicism of this reclassification (which exposes him to a life sentence) is violent. It is in the heart of the Italian state that the sponsors and organizers of the bombings-massacres that have bloodied Italy, such as the one at the Bologna train station, were located. And none of these sponsors and organizers have been prosecuted.
This condemnation and solitary confinement is part of a heavy trend of repression in Europe. The solitary confinement of revolutionary prisoners takes on the same character as the mass mutilations of antagonistic demonstrators in France. It is no longer a question of simply repressing but of dissuading, terrorizing, imposing renunciation and capitulation.
Blackmail to repent has become the norm. In Italy, 16 Red Brigades' militants have been held in "high security" for 40 years because they refuse to surrender. In France, Georges Abdallah has faced this blackmail for 38 years.
The resistance of all these prisoners is great and generous. They pay an extremely high price to support the possibility and necessity of the revolution. No matter to which current they belong, they are a valuable part of the liberation movement.
It is not a matter of solidarity with their struggle.
It is about understanding that their struggle is our struggle.
For two months now, an intense mobilization in support of the hunger strike has been taking place in Italy but also in other countries. It is mainly the anarchists who carry the weight of this struggle, but in good understanding and solidarity with other forces that have understood what is at stake in this battle: to push back the power in its policy of preventive terrorism.
While participating in various initiatives in support of Alfredo Cospito, International Red Help calls on its sections and friends to make Saturday, December 17 an international day of support for the hunger strike of Alfredo Cospito, Ivan Alocco and Anna Beniamino.
For a united class front against repression!
Closure of sections 41bis for all!
International Red Help
December 8, 2022